Sounds of Solstice with Ronan O'Snodiagh, Myles O'Reilly and Anna Mullarkey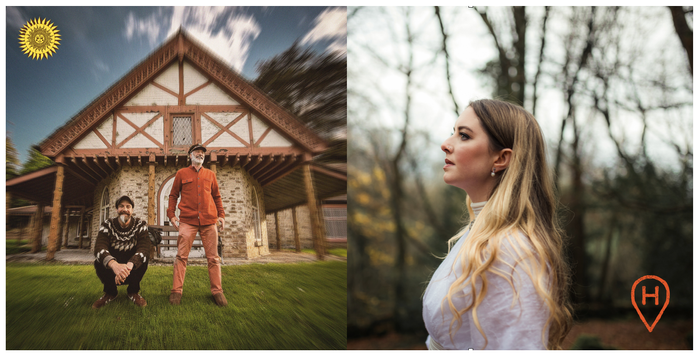 Synopsis
A Summer Solstice celebration with Ronan O'Snodaigh, Myles O'Reilly and Anna Mullarkey. Come and feast on the ambient sounds of these talented musical legends in the beautiful gardens and surrounds of The Law Society on Wednesday the 22nd of June.
We will bring music and the sun, you will bring food and drink, friends, comfy things to sit on and your good vibes. We will all make it a memorable Solstice.
In a spur of the moment decision during a Pandemic lockdown, Rónán Ó Snodaigh, frontman from the Irish folk band Kíla and filmmaker/musician Myles O'Reilly, filled a car with instruments and decamped to a cottage in the remote east of Ireland. In the ethereal sound grown to characterise Myles minimal ambient projects, Rónán found a nest to lay some new lyrics and musical ideas. Two weeks later their critically acclaimed album 'Ta Go Maith' was born.
Anna Mullarkey is an award-winning composer and performer from Galway, whose music weaves electronics with piano and voice. Having grown up in the West of Ireland, Anna draws inspiration from the sea for her compositions.The Irish Times called her "phenomenal" and Irish Theatre Magazine described her music as "if a sultry ménage of Björk/Billie Holiday/Philip Glass got together at the Wickerman Festival." Her original score for the film The Passion (2021) has won awards in Ireland and Europe.
Anna's debut album, Falling, which will be released this year, is all about falling in and out of love. It is a shapeshifting soundscape, with sometimes comforting and sometimes haunting melodies that evoke summer afternoons and winter evenings, that speak to a haunted past and a radiant present. Blending acoustic instruments and electronica, this album captivates the body and soul.
Summer Solstice Celebrations :-
As with all Pagan festivals and rituals, there is no one way to celebrate. This Solstice can be traced back as far as Stonehenge, which is 5,000 years or more, meaning that different cultures around the world now celebrate the Summer Solstice. It celebrates the Sun and is a period of pause when we can bask in its warmth, knowing that the crops are ripening in the fields, the frantic fertile period of Spring has passed, life is filled with abundance. The Solstice was a time of celebration and a break from the norm. Many cultures believed that magic took place on the night of the Summer Solstice, with fairies showing themselves to humans, while evil spirits were dispelled from their lives. Sure why not!!
It's no surprise that the sun, one of the most powerful natural forces, has so much importance in human history. The history of humans honoring, worshiping and highly revering the sun spans cultures, time, and religion. Sun symbols like the compass points or the circle with a dot inside offer insight into the suns deeply spiritual meaning.
Go on. Google it, it's interesting as feck.
SORRY, NO CINEMAS
IN YOUR AREA :(