Happenings@ Law Society Dublin
The Law Society, Blackhall Place, Dublin 7
Willy Wonka & the Chocolate Factory
Happenings@ Law Society Dublin
The world is astounded when Willy Wonka, for years a recluse in his factory, announces that five lucky people will be given a tour of the factory, shown all the secrets of his amazing candy, and one will win a lifetime supply of Wonka chocolate. Nobody wants the prize more than young Charlie, but as his family is so poor that buying even one bar of chocolate is a treat, buying enough bars to find one of the five golden tickets is unlikely in the extreme. But in movieland, magic can happen. Charlie, along with four somewhat odious other children, get the chance of a lifetime and a tour of the factory. Along the way, mild disasters befall each of the odious children, but can Charlie beat the odds and grab the brass ring?
Synopsis
The story of Charlie Bucket, a little boy with no money and a good heart, who dreams wistfully of being able to buy the candy that other children enjoy. Charlie enters into a magical world when he wins one of five 'Golden Tickets' to visit the mysterious chocolate factory owned by the eccentric Willy Wonka and run by his capable crew of Oompa-Loompas. Once behind the gates, a cast of characters join Charlie and Grandpa Joe on a journey to discover that a kind heart is a far finer possession than a sweet tooth.
More Information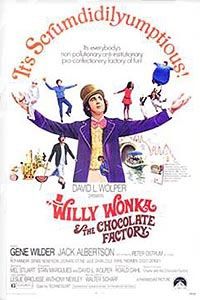 Rating:
PG
PG Certificate
Generally, a film classified as 'PG' will be suitable for children aged eight and over. However, as some elements within the film might be unsettling for some viewers, it is strongly recommended that parents/guardians - who know their own children best - consult the consumer advice available on this website before deciding on what is appropriate.
Language:
English, French, German, Italian
Genres:
Comedy
Family
Musical
Event Cinema
SciFi/Fantasy
Film Credits
Producer:
Stan Margulies
David L. Wolper
Starring:
Denise Nickerson
Julie Dawn Cole
Jack Albertson
Gene Wilder
Peter Ostrum
Roy Kinnear