Happenings@ Merrion Square
Merrion Square, Dublin 2
The Young Offenders
Happenings@ Merrion Square
More Film Info
1. One of the best Irish films in years. 2. Hilarious take on an Irish epic adventure. 3. The People's Republic on camera.
Synopsis
Conor and Jock, two dopey looking innercity teenagers from Cork, are best friends who dress the same, with dodgy haircuts and bum-fluff moustaches. Jock is a local legend — the uncatchable bike thief — much to the annoyance of bike cop Healy who has vowed to catch him. Jock hears about a failed drug trafficking attempt in West Cork where 61 bales of cocaine, each of which is worth €7 million, end up in the sea. Jock and Conor steal two bikes and travel on a 160km road trip hoping to find a bale with Healy in hot pursuit
More Information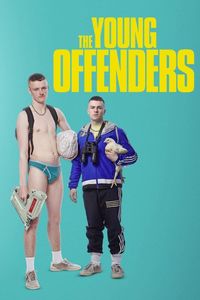 Rating:
15A
15A Certificate
Films classified 15A have been deemed appropriate for viewers of fifteen and over. However, they can also be seen by younger children - provided they are accompanied by an adult who has deemed the film appropriate viewing for that child. In such cases, IFCO strongly recommends that parents/guardians make informed decisions by accessing the consumer advice available on this website.
Country:
United Kingdom, Ireland
Released:
16 September 2016
Film Credits
Starring:
Hilary Rose
Alex Murphy
Michael Sands
Dominic MacHale
Chris Walley
Ciaran Bermingham