Happenings@ Law Society Dublin
The Law Society, Blackhall Place, Dublin 7
The Princess Bride
Happenings@ Law Society Dublin
***** Updated Start Time - Gates are now at 6.30 pm and the show will start at 7pm *****
A kindly grandfather sits down with his ill grandson and reads him a story. The story is one that has been passed down from father to son for generations. As the grandfather reads the story, the action comes alive. The story is a classic tale of love and adventure as the beautiful Buttercup, engaged to the odious Prince Humperdinck, is kidnapped and held against her will in order to start a war, It is up to Westley (her childhood beau, now returned as the Dread Pirate Roberts) to save her. On the way he meets a thief and his hired helpers, an accomplished swordsman and a huge, super strong giant, both of whom become Westley's companions in his quest.
Synopsis
Robin Wright and Cary Elwes star in this fairytale adventure about a beautiful princess and the gallant hero who rescues her from an evil villain. Directed by Rob Reiner, it's an enchanting classic the whole family will love!
More Information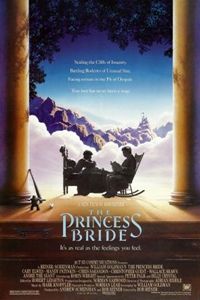 Rating:
PG
PG Certificate
Generally, a film classified as 'PG' will be suitable for children aged eight and over. However, as some elements within the film might be unsettling for some viewers, it is strongly recommended that parents/guardians - who know their own children best - consult the consumer advice available on this website before deciding on what is appropriate.
Released:
25 September 1987
Genres:
Action/Adventure
Comedy
Family
Romance
SciFi/Fantasy
Film Credits
Producer:
Andrew Scheinman
Rob Reiner
Starring:
Chris Sarandon
Christopher Guest
Wallace Shawn
Robin Wright
André the Giant
Cary Elwes
Mandy Patinkin