Happenings@ Law Society Dublin
The Law Society, Blackhall Place, Dublin 7
The Greatest Showman
Happenings@ Law Society Dublin
Grab your gang and join us in The Law Society, we'll have vendors on the day to supply you with grub and all you need for a circus-tastic experience. Doors will be at 7pm and the show kicks off at 7.30pm By the way, if anyone has a loan of an elephant please let us know. No reason.
Here at Happenings we loooove to be environmentally friendly and strive to make all our events as sustainable as possible. In that regard, we highly encourage all our smashing Happenistas to arrive by bike or public transport. The Law Society is very well catered for buses with the 37, 39, 39A and 70 all stopping right outside the door. Also, the Museum and Smithfield Red Line Luas stops are within very easy walking distance.
Finally, we'd be very appreciative if you left no trace, we will have general and recycling bins on site to pop any rubbish into during and after the event.
Synopsis
"The Greatest Showman" is a bold and original musical that celebrates the birth of show business and the sense of wonder we feel when dreams come to life. Inspired by the ambition and imagination of P.T. Barnum, a showman with a gift for hoaxing the public as he creates the three-ring circus that made him famous. The Greatest Showman tells the story of a visionary who rose from nothing to create a mesmerizing spectacle that became a worldwide sensation.
More Information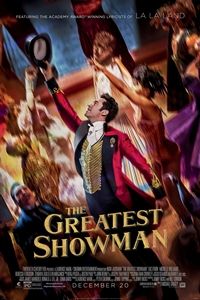 Rating:
PG
PG Certificate
Generally, a film classified as 'PG' will be suitable for children aged eight and over. However, as some elements within the film might be unsettling for some viewers, it is strongly recommended that parents/guardians - who know their own children best - consult the consumer advice available on this website before deciding on what is appropriate.
Language:
English, French
Released:
25 December 2017
Genres:
Drama
Musical
Event Cinema
Film Credits
Producer:
Jenno Topping
Laurence Mark
Hugh Jackman
Peter Chernin
Starring:
Zendaya
Hugh Jackman
Zac Efron
Michelle Williams
Rebecca Ferguson