Happenings@ Law Society Dublin
The Law Society, Blackhall Place, Dublin 7
The Goonies
Happenings@ Law Society Dublin
Mikey Walsh and Brandon Walsh are brothers whose family is preparing to move because developers want to build a golf course in the place of their neighbourhood -- unless enough money is raised to stop the construction of the golf course, and that's quite doubtful. But when Mikey stumbles upon a treasure map of the famed "One-Eyed" Willy's hidden fortune, Mikey, Brandon, and their friends Lawrence "Chunk" Cohen, Clark "Mouth" Devereaux, Andrea "Andy" Carmichael, Stefanie "Stef" Steinbrenner, and Richard "Data" Wang, calling themselves The Goonies, set out on a quest to find the treasure in hopes of saving their neighbourhood. The treasure is in a cavern, but the entrance to the cavern is under the restaurant of evil thief Mama Fratelli and her sons Jake Fratelli, Francis Fratelli, and the severely disfigured Lotney "Sloth" Fratelli. Sloth befriends the Goonies and decides to help them.
Synopsis
A band of young boys find a treasure map and embark on a magical adventure.
More Information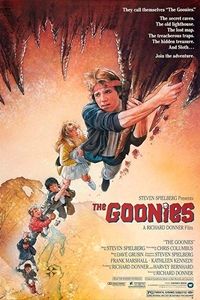 Rating:
PG
PG Certificate
Generally, a film classified as 'PG' will be suitable for children aged eight and over. However, as some elements within the film might be unsettling for some viewers, it is strongly recommended that parents/guardians - who know their own children best - consult the consumer advice available on this website before deciding on what is appropriate.
Language:
English, Spanish, Italian
Genres:
Action/Adventure
Comedy
Family
Film Credits
Producer:
Harvey Bernhard
Richard Donner
Writer:
Chris Columbus
Steven Spielberg
Starring:
Sean Astin
Josh Brolin
Jeff Cohen
Corey Feldman
Kerri Green