Happenings@ Law Society Dublin
The Law Society, Blackhall Place, Dublin 7
Star Wars: Episode V - The Empire Strikes Back
Happenings@ Law Society Dublin
The Empire Strikes back. The adventure continues in this "Star Wars" sequel. Luke Skywalker, Han Solo, Princess Leia and Chewbacca face attack by the Imperial forces and its AT-AT walkers on the ice planet Hoth. While Han and Leia escape in the Millennium Falcon, Luke travels to Dagobah in search of Yoda. Only with the Jedi master's help will Luke survive when the dark side of the Force beckons him into the ultimate duel with Darth Vader.
Here at Happenings we loooove to be environmentally friendly and strive to make all our events as sustainable as possible. In that regard, we highly encourage all our smashing Happenistas to arrive by bike or public transport. The Law Society is very well catered for buses with the 37, 39, 39A and 70 all stopping right outside the door. Also, the Museum and Smithfield Red Line Luas stops are within very easy walking distance.
Finally, we'd be very appreciative if you left no trace, we will have general and recycling bins on site to pop any rubbish into during and after the event.
Synopsis
After the destruction of the Death Star, Imperial forces continue to pursue the Rebels. After the Rebellion's defeat on the ice planet Hoth, Luke journeys to the planet Dagobah to train with Jedi Master Yoda, who has lived in hiding since the fall of the Republic. In an attempt to convert Luke to the dark side, Darth Vader lures young Skywalker into a trap in the Cloud City of Bespin. In the midst of a fierce lightsaber duel with the Sith Lord, Luke faces the startling revelation that the evil Vader is in fact his father, Anakin Skywalker.
More Information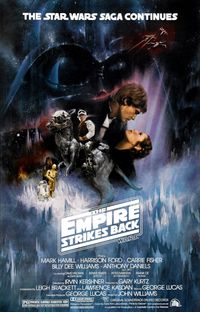 Rating:
G
General Certificate
A film classified as 'General' should be suitable for children of a school going age. However, as not every child will respond in the same way to particular themes, scenes and images, it is strongly recommended that parents/guardians - who know their own children best - consult the consumer advice available on this website before deciding what is appropriate.
Genres:
Action/Adventure
SciFi/Fantasy
Suspense/Thriller
Film Credits
Producer:
George Lucas
Howard G Kazanjian
Gary Kurtz
Writer:
Leigh Brackett
Lawrence Kasdan
George Lucas
Starring:
Harrison Ford
Carrie Fisher
Billy Dee Williams
Anthony Daniels
Mark Hamill