Happenings@ Law Society Dublin
The Law Society, Blackhall Place, Dublin 7
Star Wars: Episode IV - A New Hope
Happenings@ Law Society Dublin
Star Wars - A New Hope will get us started at 2pm. Where it all began. The Imperial Forces -- under orders from cruel Darth Vader (David Prowse) -- hold Princess Leia (Carrie Fisher) hostage, in their efforts to quell the rebellion against the Galactic Empire. Luke Skywalker (Mark Hamill) and Han Solo (Harrison Ford), captain of the Millennium Falcon, work together with the companionable droid duo R2-D2 (Kenny Baker) and C-3PO (Anthony Daniels) to rescue the beautiful princess, help the Rebel Alliance, and restore freedom and justice to the Galaxy.
Here at Happenings we loooove to be environmentally friendly and strive to make all our events as sustainable as possible. In that regard, we highly encourage all our smashing Happenistas to arrive by bike or public transport. The Law Society is very well catered for buses with the 37, 39, 39A and 70 all stopping right outside the door. Also, the Museum and Smithfield Red Line Luas stops are within very easy walking distance.
Finally, we'd be very appreciative if you left no trace, we will have general and recycling bins on site to pop any rubbish into during and after the event.
Synopsis
Nineteen years after the formation of the Empire, Luke Skywalker is thrust into the struggle of the Rebel Alliance when he meets Obi-Wan Kenobi, who has lived for years in seclusion on the desert planet of Tatooine. Obi-Wan begins Luke's Jedi training as Luke joins him on a daring mission to rescue the beautiful Rebel leader Princess Leia from the clutches of the evil Empire. Although Obi-Wan sacrifices himself in a lightsaber duel with Darth Vader, his former apprentice, Luke proves that the Force is with him by destroying the Empire's dreaded Death Star.
More Information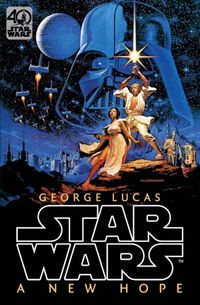 Rating:
G
General Certificate
A film classified as 'General' should be suitable for children of a school going age. However, as not every child will respond in the same way to particular themes, scenes and images, it is strongly recommended that parents/guardians - who know their own children best - consult the consumer advice available on this website before deciding what is appropriate.
Genres:
Action/Adventure
SciFi/Fantasy
Suspense/Thriller
Film Credits
Starring:
Harrison Ford
Carrie Fisher
Alec Guinness
Peter Cushing
Mark Hamill