Happenings@ Law Society Dublin
The Law Society, Blackhall Place, Dublin 7
Mamma Mia: Here We Go Again!
Happenings@ Law Society Dublin
In 1979 young Donna, Tanya and Rosie graduate from Oxford University -- leaving Donna free to embark on a series of adventures throughout Europe. On her journeys, she makes the acquaintances of Harry, Bill and Sam -- the latter whom she falls in love with, but he's also the man who breaks her heart. In the present day, Donna's pregnant daughter, Sophie, dreams of renovating a taverna while reuniting with her mother's old friends and boyfriends on the Greek island of Kalokairi.
Here at Happenings we loooove to be environmentally friendly and strive to make all our events as sustainable as possible. In that regard, we highly encourage all our smashing Happenistas to arrive by bike or public transport. The Law Society is very well catered for buses with the 37, 39, 39A and 70 all stopping right outside the door. Also, the Museum and Smithfield Red Line Luas stops are within very easy walking distance.
Finally, we'd be very appreciative if you left no trace, we will have general and recycling bins on site to pop any rubbish into during and after the event.
Synopsis
Get ready to sing and dance, laugh and love all over again.Ten years after Mamma Mia! The Movie grossed more than $600 million around the world, you are invited to return to the magical Greek island of Kalokairi in an all-new original musical based on the songs of ABBA. With the film's original cast returning and new additions including Lily James (Cinderella, Baby Driver), the musical comedy will open on July 20, 2018.
More Information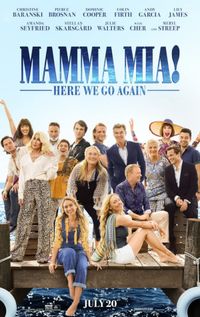 Rating:
PG
PG Certificate
Generally, a film classified as 'PG' will be suitable for children aged eight and over. However, as some elements within the film might be unsettling for some viewers, it is strongly recommended that parents/guardians - who know their own children best - consult the consumer advice available on this website before deciding on what is appropriate.
Country:
United Kingdom, United States
Language:
English, French, Greek, Italian
Genres:
Comedy
Musical
Romance
Film Credits
Producer:
Judy Craymer
Gary Goetzman
Starring:
Dominic Cooper
Julie Walters
Lily James
Amanda Seyfried
Meryl Streep
Pierce Brosnan
Christine Baranski