Happenings@ Law Society Dublin
The Law Society, Blackhall Place, Dublin 7
Back to the Future
Happenings@ Law Society Dublin
In this 1980s sci-fi classic, small-town California teen Marty McFly (Michael J. Fox) is thrown back into the '50s when an experiment by his eccentric scientist friend Doc Brown (Christopher Lloyd) goes awry. Traveling through time in a modified DeLorean car, Marty encounters young versions of his parents (Crispin Glover, Lea Thompson), and must make sure that they fall in love or he'll cease to exist. Even more dauntingly, Marty has to return to his own time and save the life of Doc Brown.
Synopsis
With the help of a wacky scientist, a young teen travels back to 1955 in a Delorean turned time-machine. Once there, he meets his parents, still teenagers, but his presence throws things out-of-whack and he must ensure they fall in love and get married or else he'll never come to exist.
More Information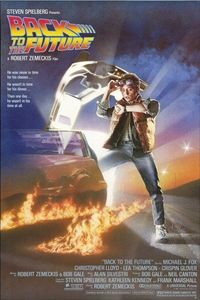 Rating:
PG
PG Certificate
Generally, a film classified as 'PG' will be suitable for children aged eight and over. However, as some elements within the film might be unsettling for some viewers, it is strongly recommended that parents/guardians - who know their own children best - consult the consumer advice available on this website before deciding on what is appropriate.
Genres:
Action/Adventure
Comedy
Family
SciFi/Fantasy
Film Credits
Starring:
Thomas F. Wilson
Crispin Glover
Michael J. Fox
Christopher Lloyd
Lea Thompson
Claudia Wells